Starting school can be both exciting and nerve-wracking, not just for students but also for the school building itself. In the delightful children's book SCHOOL'S FIRST DAY OF SCHOOL, readers are taken on a journey through the eyes of a brand new school building. I loved making this unit for my students.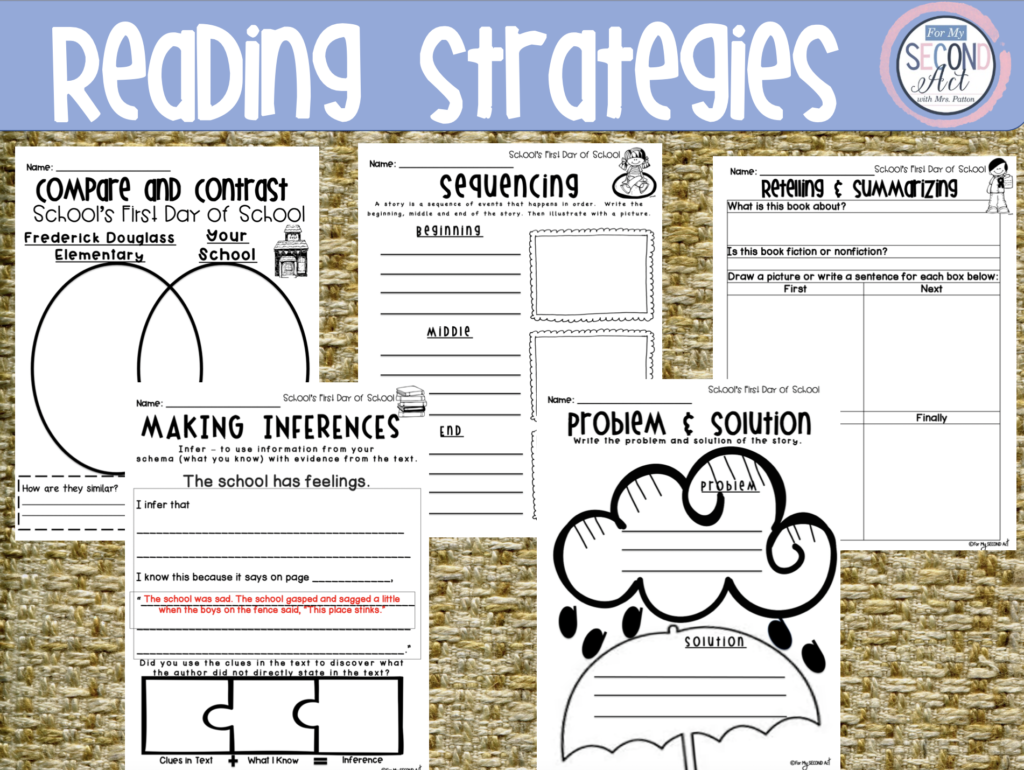 SCHOOL'S FIRST DAY OF SCHOOL tells a unique story of the first day of school from the perspective of the school building itself. Frederick A. Douglass Elementary is excited and nervous about what the day will bring. Through the school's eyes, readers witness the arrival of the students and their individual experiences as they step into the classrooms, meet their teachers, and adapt to their new environment. With each passing hour, the school learns more about what it means to be a school and how students and teachers strengthen its sense of identity. SCHOOL'S FIRST DAY OF SCHOOL activites unit is filled with many options.
Adam Rex Books
The primary characters in this book are Frederick A. Douglass Elementary School and the students. By personifying the school building, Rex gives readers a chance to empathize with the mixed emotions experienced by new students. I love how this makes it relatable to young readers starting their own educational journey.
The book also explores themes of nervousness, excitement, friendship, and the power of resilience. Through the interactions of the school, students, and teachers, readers witness the building of new relationships and the development of a school community. It highlights the importance of embracing your own unique qualities and accepting the unique qualities of others.
SCHOOL'S FIRST DAY OF SCHOOL Activities
The beautiful illustrations by Christian Robinson bring the story to life. The bright and vibrant colors, combined with whimsical depictions of characters, help create a visually engaging experience. The illustrations capture the range of emotions felt by the characters and add depth to the storytelling.
School's First Day of School Read Aloud
SCHOOL'S FIRST DAY OF SCHOOL is a must-read for children who are preparing for the first day of school. This book offers a fresh perspective and reassurance that it's okay to feel nervous or unsure about new experiences. It encourages children to embrace their emotions and reminds them that they are not alone in their feelings.
Furthermore, the book serves as a valuable conversation starter about empathy, understanding, and building relationships. It teaches children the importance of embracing diversity and creating a welcoming and inclusive environment for everyone.
SCHOOL'S FIRST DAY OF SCHOOL by Adam Rex
Overall, SCHOOL'S FIRST DAY OF SCHOOL by Adam Rex is a delightful and insightful book that captures the essence of what it feels like to start school. With its clever storytelling, relatable characters, and beautiful illustrations, this book is sure to captivate young readers.
I have many back-to-school book units that are perfect for icebreakers. Let's make it easy to teach life lessons – Activities for Enemy Pie and The Best Seat in Second Grade are super easy to implement in your classroom today!