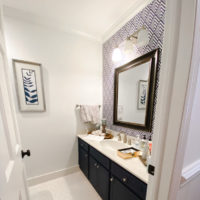 I had my rotator cuff repaired at the beginning of June. My twin daughters came up to visit and take care of me for a long weekend. They do not do "nothing" well so I came up with a project for us to complete while they were here.
I wanted to redo a half bath that needed a coat of paint and a little TLC! After researching how to hang wallpaper I decided to hang it on just one wall. I found a great wallpaper that did not have a large repeat and it was basically contact paper, it did not require glue. So over the course of three days the girls made it happen.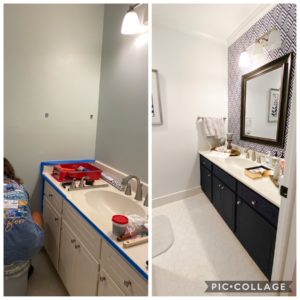 First they started painting the cabinet hale navy, my favorite blue, and then they began with the walls, basic white. I wanted it to be crisp and clean. On the third day we tackled the wallpaper together. We measured the wall and then cut the first strip on the floor. We held it up to make sure it was long enough. Then we laid out the paper and matched up the second strip and then the third. It was not as difficult as I thought it might be.
Reminder, I was in a sling from the surgery ten days prior, so I was not a huge help. During the paper hanging they were standing on the cabinet and I was on a step-stool holding the light fixture so we did not have to completely take it off the wall. There are not any pics of the hanging because because we were all dangling in the air trying to get the paper up! It's always comical with these girls!!!
Maddie painted the pictures; they are replicas from Ballard Design. Those were $250+ each and ours were $7 at Habitat Restore! They did a great job and I am so incredibly happy with the finished product. I love it when they are back in the nest, even if it only for a few days!